Fullwood Milking Machines
Dave Camp set up his own "Dairy Engineering" Business in 1967 as – D J Camp, having being trained as a "fitter" by Fullwood's.
As milk quotas started to take their toll in the early 1980′s, Dave turned more and more to his "stick welder" and "cut off saw". In 1984 his first "Manger Set" was made and were supplied "countrywide" along with the complete parlour stall work through "Manus".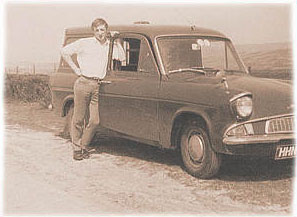 1980
Dave and Anne (Dave's wife) acquired the current site and in 1981 constructed our original unit.
1992
His son Robert joined the business having served his time as a "Plater" in structural steel.
2000
After 35 years of keeping North Eastern Farmers milking, giving a 24 hour callout service and being a main dealer for Manus milking equipment, D J Camp decided to 'Call it a day'. The decline of the farming industry and in particular dairy farming had forced us to take those radical steps, but with the drastic reduction of our customer base, we felt it was best to withdraw from the milking machine market whilst we could. Our ties with agriculture had not completely been cut as we still offer our fabrication skills to the trade and in recent years have developed a rotary milking platform for goats, which holds many an exciting prospect both for goat milk producing farms and our fabrication department.
2002
Due to very successful trading and a strong customer base, an extension doubling our manufacturing area and providing offices and new welfare facilities was undertaken.
2005
The step to become a Limited Company was taken due to the steady increase in business and staff. Clare (Roberts wife) also joined the company.
2010
Dave and Anne officially retired and Clare increased her involvement in the Company overseeing Health & Safety and marketing. In an ever changing eco-friendly world we also commissioned a 9.5 kw Photovoltaic array to help generate some of the electric we use in an effort to offset our carbon footprint.
2011
Despite a great deal of uncertainty in the economy D J Camp Ltd has continued to expand and planning consents have been applied for an expansion programme enabling us to offer greater capacity to our customers.
2017
D J Camp celebrated 50 years of trading by building their own purpose built additional production facility complete with new offices and overhead cranes